Welcome to the InstaCasa Group
CORONAVIRUS UPDATE – 1st July, 2021.
InstaCasa closed its physical office in downtown Vilcabamba in April 2020 … due to the CoronaVirus Lockdown. We are still without a physical office, but as predicted in our last mailout late last year … things are starting to look up, re an uptick of folks headed for the Vilcabamba life … so we may be back in a downtown office sooner rather than later!
Meanwhile, we continue to operate as normally as possible under these changed circumstances, and what with the recent electoral outcome for our northern neighbours in the US, we are fully expecting a busy year ahead! Additionally, we had a very good electoral outcome here recently, with Correismo hopefully forever banished, and a sensible practical politician, in the form of Guillermo Lasso, installed as Ecuador's new president. Very good news for anyone thinking of heading this way and potentially relocating their lives here.
Click here for our latest update regarding the state of play in Vilcabamba real-estate … and what we believe is in store for 2021.
Nick & Santiago are available for consultations in downtown Vilcabamba, by appointment. Just give us a shout!
Nick: 09 8611 9909 (Whatsapp, Telegram, Signal).
Santiago: 09 9781 4822 (Whatsapp).
From outside Ecuador via these numbers, just add +593 at front, and drop the 0.
You can also reach us via the Contact Page.
Please check out our short introduction video and other helpful information about Vilcabamba below.
Click on the website you require.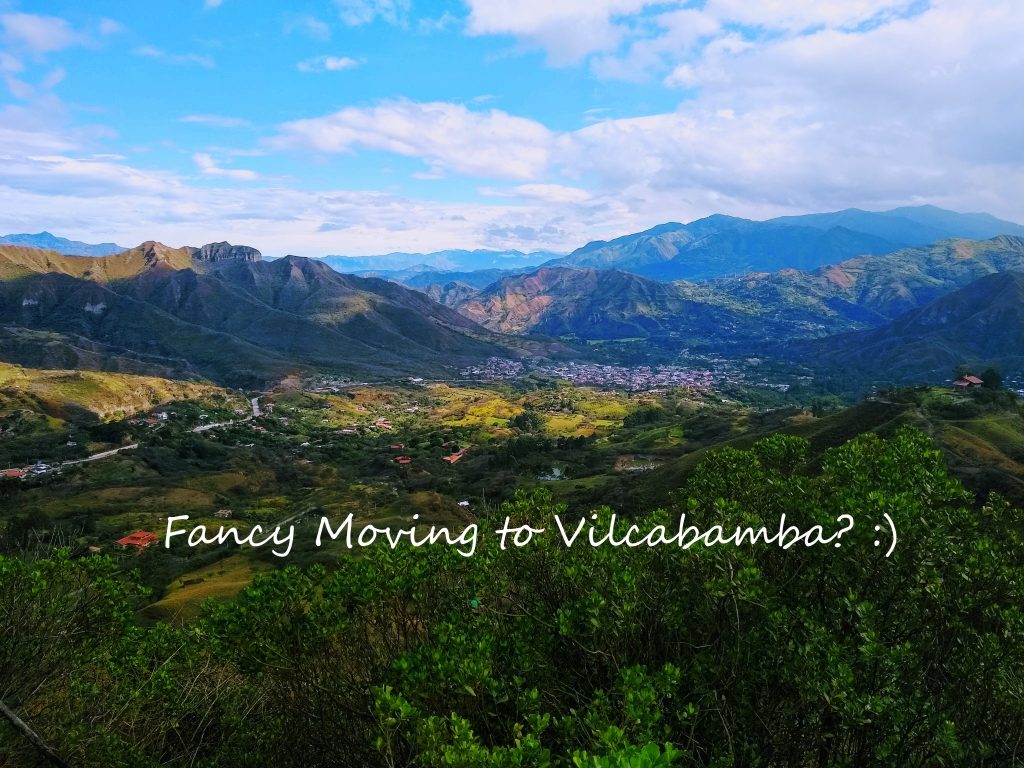 So … what is it about Vilcabamba? 🤔

For anyone not clued up on Vilcabamba, we are a little "valley village" … in the mountains of southern Ecuador. Situated at about 1,500 metres (5,000 feet for you gringos!) … Vilcabamba is blessed with a perfect year-round climate (temperate to fairly warm) … with a rainy season (approx Nov to May), and a dry season (approx June to Dec). The temperature stays more or less the same year-round … perhaps it is a degree or two cooler on average, during the rainy season. Located right next to the Podocarpus National Park, Vilcabamba is blessed with abundant flora, fauna, and a laid-back vibe that slows people down, invites them to chill-out and get in touch with themselves as well as the incredible nature all around. The healthy food, water and lifestyle which is so easy to get into in Vilcabamba … has long-since earned it a reputation as one of about seven "longevity" regions on Planet Earth. The population demographic consists of  about 5,000 Ecuadorians, and about 500 eclectic foreigners (about half from the US, and the rest from all over the world!). With such a diverse mix of nationalities and cultures, all sorts of interesting, weird and wonderful things always seem to happen here! Check out this beautiful video of Vilcabamba below. It's a bit cheesy, but you will definitely get the idea … of why so many come … and never seem able to leave! ❤